Kickboxing
Thursdays:
6:45pm – 7:45pm: KickFit Circuits (Kickboxing Fitness)
This is a free complimentary class for participants in the Zumba program. The class consists of the very best in Muay Thai kickboxing fitness.
Frequently Asked Questions
What is KickFit Circuits?
Muay Thai originated from Thailand and is known as "the science of eight limbs" because the hands, elbows, knees and legs are used to strike the target in an effective manner. It is widely recognized as one of the most effective stand-up martial arts. Muay Thai fighters are known for their incredible stamina, fitness and overall conditioning, a fine tuned specimen.
Our KickFit Circuits classes embraces the fitness elements of this amazing art form. You will be punching, kicking, kneeing and elbowing the Muay Thai kick pads incorporating functional bodyweight exercises.
A truly heart pumping kick-ass workout.
Train like a fighter, become an athlete without getting hit.
I'm unfit can I take part in the class?
Absolutely, of course you can.
The class is suitable for everyone.
Will I get hurt in the class?
There is no physical contact in the class but you're required to sweat and  work your ass off.
Do I need any equipment to take part in the class?
No equipment is necessary, we provide all the equipment however, if you have boxing gloves you can bring them to class with you.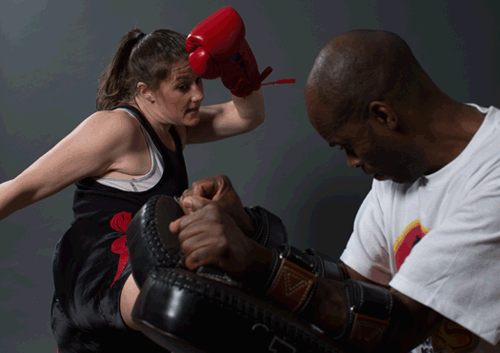 If you have a question about this class that is not answered here. Please Contact Us, we'd love to hear from you.