Zumba Class Schedule
10:00am – 11:00am: Zumba for Parkinson's
This class is for people diagnosed with Parkinson's disease.
11:15am – 12:15pm: Zumba Gold 
This class is designed for the active, older adult who wants to keep moving and enjoying Zumba at a more comfortable pace.
6:00pm – 7:00pm: Zumba Fitness 
Zumba for everyone
9:30am – 10:30am: Zumba Fitness for Beginners
$13 Zumba Class Fee (Your first class is FREE)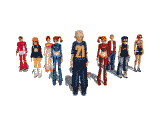 Frequently Asked Questions
How does my Zumba fee payment work?
Your Zumba fee is a month by month subscription payment.
You can cancel it at anytime through PayPal
www.paypal.com
you don't have to contact Zumbacise.com.
We believe that it's your membership and you have full control over the membership.
You can cancel, suspend or renew the membership at anytime without contacting Zumbacise.com or Belmars.
Can I do other classes at your studio as part of my Zumba fee?
You're entitled to take part in the following classes per month
12 Zumba Fitness classes
4 Circuit Training classes
4 Kickboxing Fitness classes
4 Yoga classes
What do I need to bring to a Zumba class?
Bring water, a towel and a Positive Attitude!
Do you store my payment information?
How can I cancel my PayPal subscription?
Log in to your PayPal account.
Click Profile at the top of the page.
Click My Money, then click Update beside My preapproved payments to find your payment.
Select the payment, and then click Cancel.
If you have a question about our program or fees. Please Contact Us, we'd love to hear from you.